SBN's 2nd Annual Sustainable & Local Tour: East Passyunk
09/30/2023 11:00 AM - 03:00 PM ET
Summary
SBN's Sustainable & Local Tour highlights local, values-driven businesses in Philadelphia's bustling business corridors and neighborhoods. Throughout the day, locals and visitors can shop locally while positively impacting the environment and local communities.
Description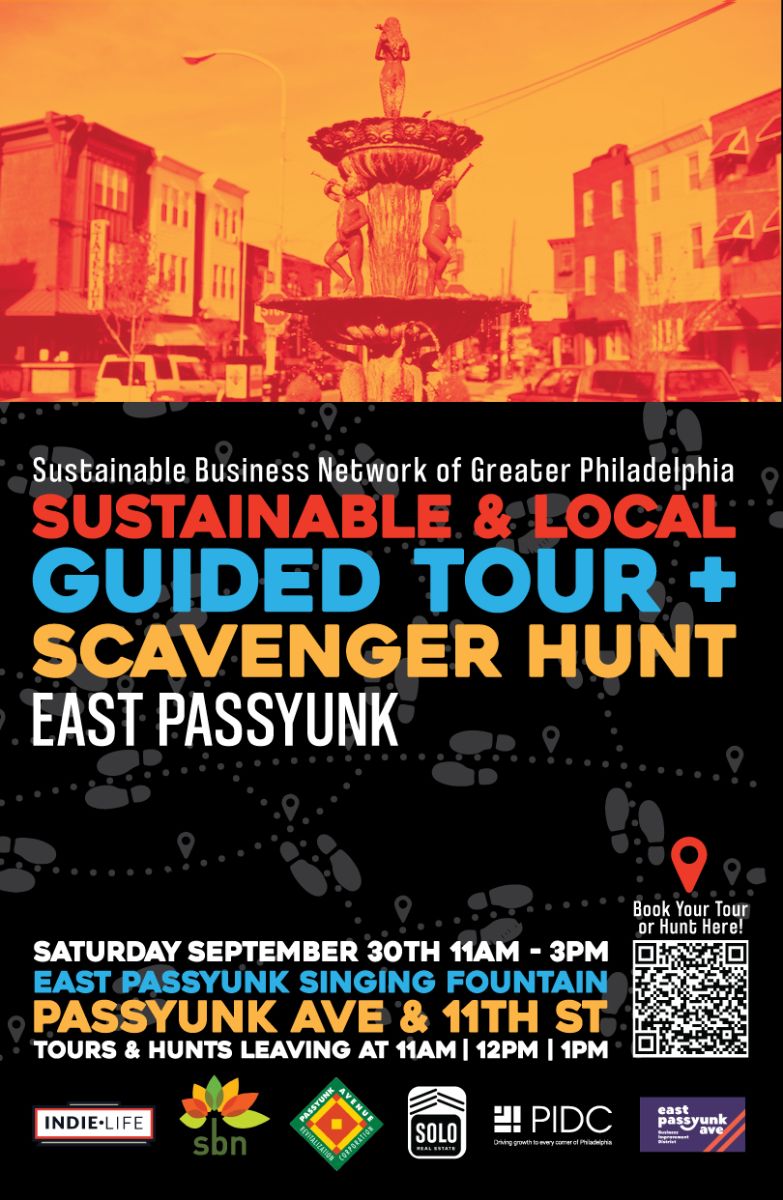 Join SBN for our Sustainable & Local Tour in East Passyunk!

The day will consist of guided and self-guided walking tours and a scavenger hunt for the whole family to enjoy! Guided walking tours will be at 11 am, 12 pm, and 1 pm, lasting up to 90 mins. Self-guided tour options are also available for attendees who want to go at their own pace. New this year, tourgoers can be part of a scavenger hunt! Hunt for items or questions to scout sustainable businesses along E. Passyunk. Along the way, guests will be introduced to new businesses and business owners practicing sustainability.
Businesses featured throughout the day include August Moon, Black & Brew, Cartesian Brewing, Civil Stock, Creations by Coppola, Good Buy Supply, Latchkey, Mighty Bread, River Twice, Society Hill Dance Academy, and South Philly Food Co-op!
Tours and hunts will make stops at various businesses along E. Passyunk. Tourgoers will hear from business owners at each visit and learn more about their sustainability practices while receiving samples and other special offers. These activities will feature sustainable businesses in the food, fashion, home goods, wellness, and lifestyle industries.

All tours and hunts will begin and end at the E. Passyunk Singing Fountain, Passyunk Ave., and 11th St.

Please stay tuned for more details and information as we get closer to the event!

Guided Tour
Hit the streets of E. Passyunk for a guided tour exploring a variety of local, values-driven businesses. Meet the owners behind some of these beloved shops throughout the tour and learn their sustainability practices. Tourgoers will receive discounts and offers from select businesses. Children under 12 can attend for free, please register each child to ensure accurate headcounts.

Ticket Price: $35
Self-Guided Tour
Want to explore E. Passyunk's innovative sustainable businesses at your own pace? Take a self-guided tour! You'll receive a map of all the businesses along E. Passyunk to visit at your own pace. Tourgoers will receive discounts and offers from select businesses.

Ticket Price: $25

Scavenger Hunt
Grab a few friends and explore E. Passyunk's sustainable businesses via a scavenger hunt! At the beginning of each hunt, teams will be given a scorecard and instructions to scour each stop to locate items and answer questions while learning more about each business' sustainability practice. Winners of the scavenger hunt will receive a prize, as well as discounts and offers from select businesses. Children under 12 can attend for free, please register each child to ensure accurate number of scavenger hunts.

Ticket Price: $35 for an individual | $30 for a group of 3 | $25 for a group of 5
Presented by
Thank you to our event sponsors: